Disparities in Dental Care Facing Persons with Intellectual and Developmental Disabilities
Professors Raquel Rozdolski, D.M.D., and Susan DiSenso-Browne, D.D.S., Discuss the Gap in Care For Patients with Special Needs
January 10, 2022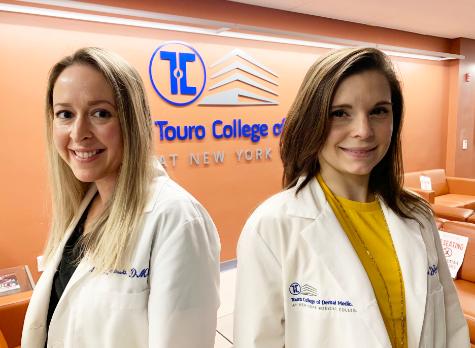 Raquel Rozdolski, D.M.D., Director of Anesthesia and Pain Control, and Susan DiSenso-Brown, D.D.S., Director of Special Needs
There is a divide in access to proper dental care for people with intellectual and developmental disabilities (IDD). Many general dentists are not trained to properly handle situations that may arise when treating the population, while caregivers for those with IDD are in a constant search for providers equipped to address the disparities.
Doctors Raquel Rozdolski, D.M.D., Touro College of Dental Medicine's (TCDM) Director of Anesthesia and Pain Control, and Susan DiSenso-Browne, D.D.S., TCDM's Director of Special Needs, are working to spread awareness for bridging these gaps and training oral health professionals on the topic. Both program directors for the TCDM curriculum of the newly created NYSADC Fellowship to Address Oral Health Disparities, the two also spearheaded a 2020 project called, Smiles United; an innovative model of support to provide individuals with intellectual and developmental disabilities access to quality dental care by virtually connecting them with oral health care providers.
Here, they share their perspective on the gap in care in the IDD community and why it is so important that dental professionals receive training for treating this population.
Q: What qualifies someone as special needs? ​
A: Dr. Raquel Rozdolski: The term "special needs" is broad, including physical, cognitive, developmental and/or medical conditions that necessitate unique individualized care considerations. This includes individuals with intellectual and developmental disabilities (IDD), who comprise roughly 17% of the US population. According to the American Dental Association, this can include people with autism, Alzheimer's disease, Down syndrome, spinal cord injuries, and countless other conditions or injuries that can make standard dental procedures more difficult.
Q: What are some of the challenges facing those with special needs when looking for dental care?
A: Dr. Susan DiSenso-Browne: Challenges are unique for each person, but specifically, persons with IDD face a tremendous challenge in access to care. From lack of provider training to insufficient facilities and services to transportation roadblocks, or lack of oral health education by the individuals' caregivers, many people with IDD go months to years without proper dental care.
Q: Are those with special needs any more susceptible to oral health issues?
A: Dr. Susan DiSenso-Browne: In general people with compromising medical conditions and related disabilities are often more susceptible to oral disease. This increase in susceptibility may be linked to systemic disease or genetic condition, subsequent to dexterity issues affecting home care, lack of caregiver education on the importance of oral health; or related to the aforementioned access to care issues, to name a few.
Q: Why is proper training in special care dentistry important, from a provider's perspective?
A: Dr. Susan DiSenso-Browne: Training in special care dentistry provides experience, competence, and confidence for a provider in proper assessment and care management for an individual's needs, thus enhancing the dentist's communication and clinical skills, as well as helping to close the gap in access to care. The provider expands their scope of practice and also better understands when and how to refer. Improved training also enlarges the referral base and, by extension, an individual's care options.
Q: Are there oral health education resources for caregivers?
A: Dr. Raquel Rozdolski: Yes! The COVID-19 pandemic has significantly impacted people with IDD, sadly deepening the already existing divide in their access to proper medical and dental care. Seeing this disparity and determined to bridge the gap, the Touro College of Dental Medicine (TCDM) received a grant from the New York State Developmental Disabilities Planning Council to develop the Smiles United project, as mentioned above.
There are many more avenues in which dental providers can become involved directly with caregivers especially as it relates to caregivers who work in group-home settings. More resources are needed in order to bridge the gap between a patient's daily oral care regimen and their annual or bi-annual visits to the dental providers.