Every Day is Veteran's Day: TCDM Hosts Month-Long Smiles for Veterans Event
Dental students provide veterans and their families with free oral health services throughout November
November 13, 2020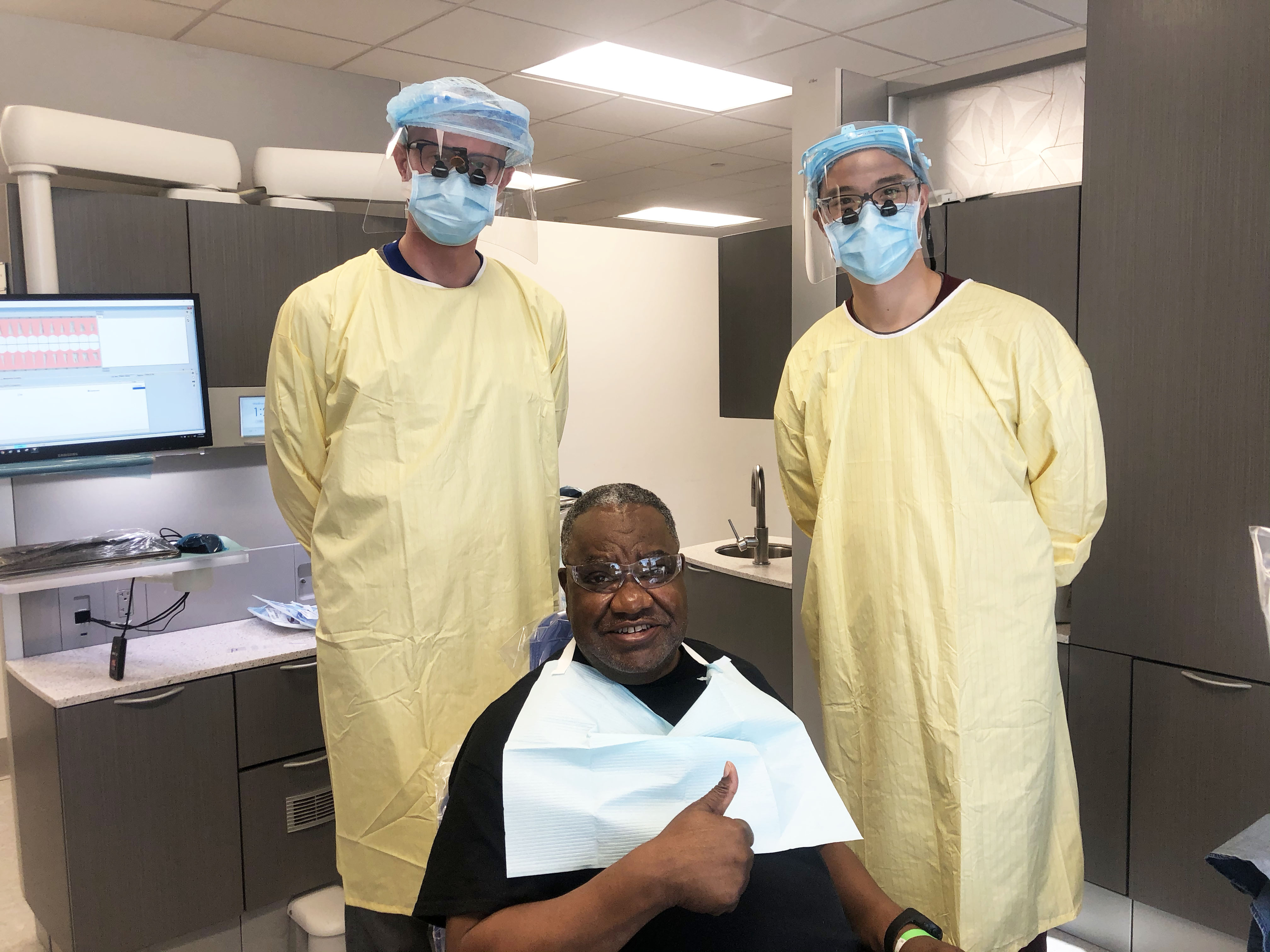 WESTCHESTER, NY – November 13th, 2020 – There are very specific guidelines for veterans when it comes to receiving dental benefits though the government, leaving many former military personnel including Robert Brown, 62, (right) with no option but to pay out of pocket. Upon learning about this years' Smiles for Veterans event at Touro Dental Health, the 115-chair clinical training facility at the Touro College of Dental Medicine (TCDM), Robert promptly called to make an appointment, sharing that the opportunity to receive quality care for free "means everything" to him.
"It's real important to me...my medical is covered but no dental, and I am trying to get my smile back together," said Robert, a former Marine.
For the past three years TCDM has commemorated Veterans Day by hosting its Annual Smiles for Veterans event, a day of free dental care for veterans, military personnel and their family members provided by dental students and faculty in collaboration with the Ninth District Dental Association and support from the New York State Dental Foundation. This year, to reduce the risk of crowds and ensure patient safety during the coronavirus pandemic, TCDM chose to honor those who have served our country by offering free dental screenings, x-rays, cleanings and fillings throughout the entire month of November.
"Recognizing those that have selflessly served our country to defend our freedoms speaks to the mission of TCDM, a mission that is to deliver excellent service with integrity, compassion and empathy," said Dean Ronnie Myers, D.D.S. "Being able to give back to veterans for their service and sacrifice makes us proud."
In the knowledge that many veterans and their families put-off routine dental visits and necessary treatment due to financial constraints, TCDM hosts Smiles for Veterans each year to provide those who have sacrificed so much a chance to jumpstart their journey to back to maintaining good oral and overall health. The event has been an anticipated milestone in each dental student's clinical experience, and an opportunity for TCDM to instill the importance of community service in these future dentists who will someday have the opportunity to give back to their own communities.
"I know how hard our veterans have worked to serve the country, and I believe that they deserve recognition for their service not just on Veteran's Day but every day," said D4 Steven Chung, whose brother is currently serving in the Air Force. "I am proud that I can be a part of giving back to those who have given so much to us."
Brooklyn native Yathyra Portilla, 57, is a former avionics technician and was stationed at Royal Air Force Upper Heyford in Oxford, England. Now a massage therapist, Yathyra shared that she recognizes the importance of taking care of the body, making a meaningful comparison between maintaining one's overall health and the work she had previously done on fighter jets.
"Your body is a machine just like your car; and, my airplanes, I used to take care of them so they would last, so they would work—what do you think the body needs? The very same thing," said Yathyra, who requires dental implants and was directed to TCDM by the Veterans Administration for her care. "I want to be able to smile naturally and eat and speak naturally...teeth are really important; they are a part of your happiness."
TCDM looks forward to continuing to host Smiles for Veterans and working again with its community partners to ensure Veterans and their families have access to the vital dental care that they deserve.
In addition to the free dental services offered through TCDM's Smiles for Veterans Program each year, Touro Dental Health offers special courtesy rates for veterans, military personnel and their spouses on an ongoing basis. Do you know a veteran who can benefit from free dental care? Call 914-594-2700 to learn more.