Touro Dental Health Reopens and Refines the Patient Care Experience
New Patient Onboarding Integrates Teledentistry to Expedite Treatment and Enhance Safety
July 07, 2020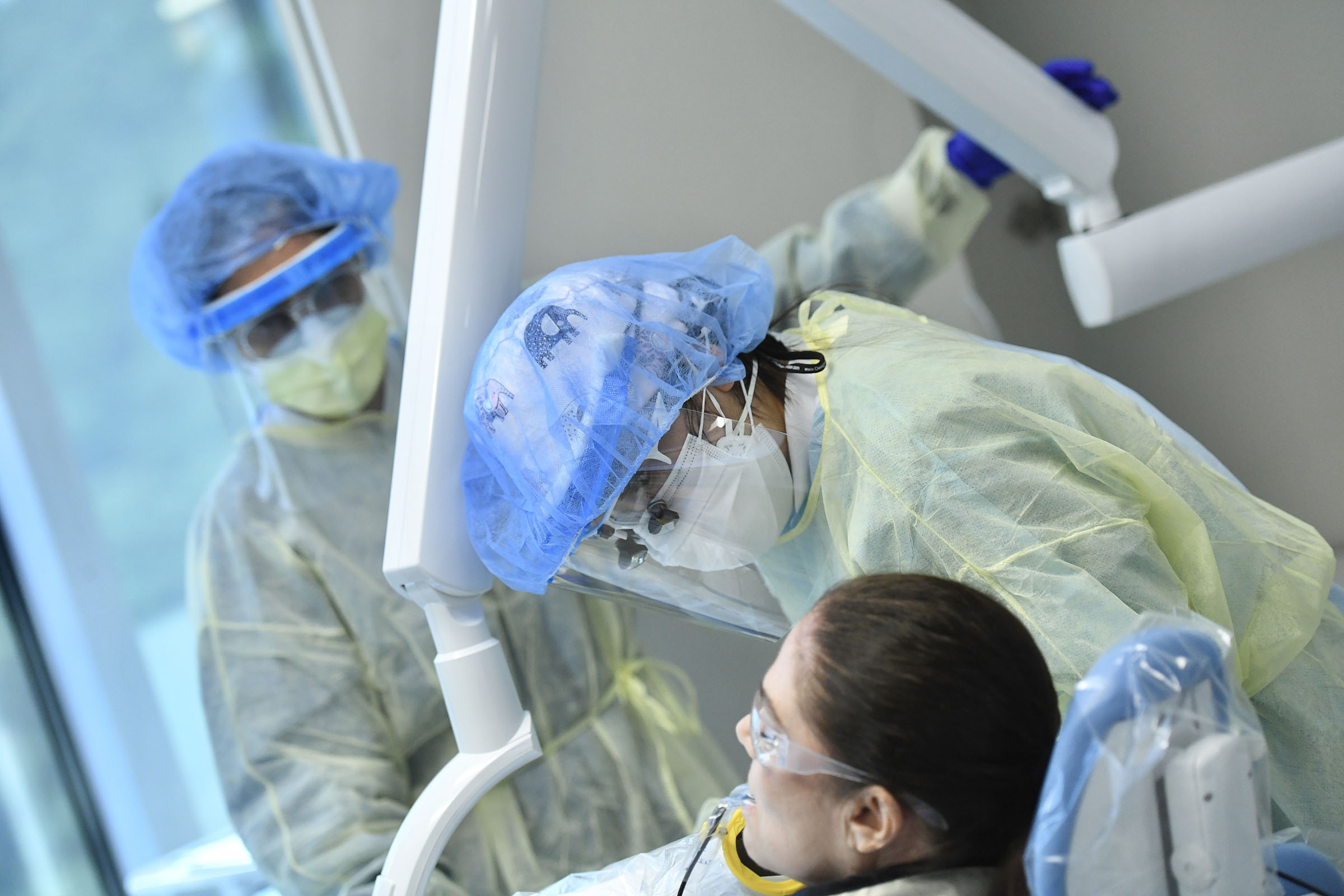 Students at Touro Dental Health adapt to new PPE
WESTCHESTER, NY – July 7, 2020 – Touro Dental Health, the 109-chair dental teaching practice located at the Touro College of Dental Medicine (TCDM), safely reopened for patient care on Thursday, June 18th after being closed for non-essential dental visits due to the COVID-19 outbreak.
During that time, the clinical facility, in accordance with Governor Cuomo's guidelines, remained open to its patients of record for emergency visits. Touro Dental Health also launched a teledentistry service to further provide its patients with a safe and immediate option for those with urgent dental needs. Over the course of the quarantine period, Touro Dental Health's essential frontline workers received nearly 400 emergency and teledentistry visits. Now that its doors are open again, Touro Dental Health is experiencing an unprecedented demand for appointments from patients, with call volume up more than double since the start of the pandemic.
"Patients are ready to continue their treatment and our students and faculty are thrilled to be back in clinic and doing dentistry again," said TCDM's Dean Ronnie Myers, D.D.S. "We are immensely proud of the dedication of our faculty, staff and students to their patients during this uncertain time and in the development of all the new protocols and infection prevention policies. We're now working diligently to address the influx of appointment requests and provide treatment as soon as possible, while providing patients a safe and comfortable environment."
Adhering to guidelines set forth by the NYS Department of Health, Touro Dental Health launched its multi-phased reopening plan in mid-June, limiting initial capacity of its clinical facilities to 16.5% of students, faculty, staff and patients in order to minimize risk and ensure the health and safety of all individuals.
For in person visits, the clinic has increased its personal protective equipment standards for students, faculty and clinical staff. In addition to masks, gowns, gloves and goggles, all of which have always been required, the clinic is requiring its practitioners to wear face shields—which are manufactured in TCDM's onsite lab—custom fitted N95 masks for greater protection, as well as head and shoe coverings. The school is using its onsite 3D printing capabilities to manufacture face shields as well as facial scanning technology to design custom mask fitters that improve the seal of the face mask, making N95s and other masks safer.
The challenges and new protocols presented by the current pandemic have inspired TCDM to explore innovative ways to redesign the dental care experience for its patients. Touro Dental Health is now in the process of implementing a secure, HIPPA compliant registration system for new patients which will expedite onboarding and integrate teledentistry into the process.
"As one of the newest dental school in the nation, we've proven ourselves to be adaptable and creative time and again," said Edward F. Farkas, D.D.S., M.A., Vice Dean at TCDM. "The pandemic has presented us with an opportunity to refine the patient experience and to utilize these digital tools in ways that will improve the patient process, while advancing the education of our students."
The online pre-clinical assessment will allow new patients of Touro Dental Health to provide clinicians with their medical history—and other registration information that is generally provided in person during the patient's first visit—from the comfort and safety of their homes. Upon submission of this information, a student and faculty member will arrange a teledentistry visit to discuss the patient's history and needs in detail prior to their appointment, giving students the opportunity to get to know their patients before they even step through the door. This virtual patient intake process will not only save valuable time at the patient's first appointment, but will effectively limit person to person contact.
"Our teledentistry initiatives reinforce Touro Dental Health's mission of providing our patients with the most technologically advanced care," said Dr. Farkas. "We anticipate having the system in place within the next few weeks."
"I can't wait to get back in there next week, even with all the new PPE. Working in a spacesuit will definitely take some getting used to," said student Rena Katz, '21, who was among those in the first group of students gradually returning to clinic. "I missed the people most of all and being able to care for my patients. I know they're eager to continue treatment and I am happy to be there for them again."