TCDM's Class of 2022 Adapts to Providing Clinical Care in a Pandemic
The class of 104 third-year dental students donned full PPE and gradually entered Touro Dental Health to provide patient care for the first time
July 31, 2020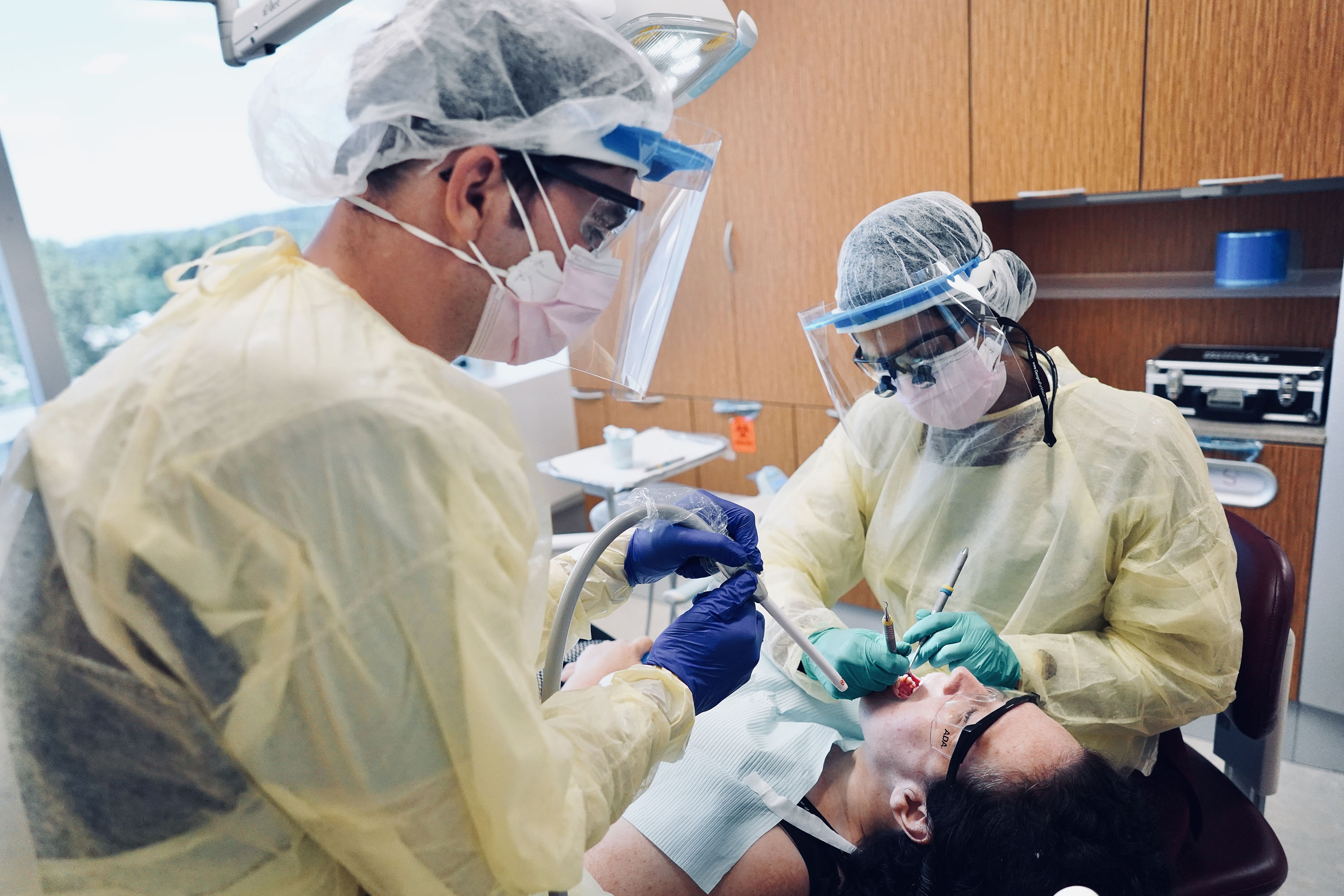 WESTCHESTER, NY – July 31, 2020 – After more than two years of didactic education and training utilizing the most advanced dental technology, the Class of 2022 began treating patients at Touro Dental Health, the 109-chair dental teaching practice located at the Touro College of Dental Medicine (TCDM), on Monday, July 20th.
The air of nervous anticipation among the new class of D3s entering clinic was even more palpable than in past years as the students prepared to have their first-ever patient care experiences in the midst of a pandemic. Despite the unique challenges that COVID-19 poses to providing oral health care, the students report that they have adapted and are excited for the next step in their journey to becoming D.D.S.'s.
"There's a lot of equipment that we are wearing that we are not totally accustomed to," shares D3 Blake Artuso, referencing the increased PPE standard required of students, faculty and staff working at Touro Dental Health. "While it's a lot to wear and a lot of new protocols to remember, you adapt quickly."
Over the course of his first two weeks at Touro Dental Health, Blake has had the opportunity to perform a number of initial examinations under the guidance of his upperclassman partner, D4 Trung Nguyen. As part of TCDM's clinical teaching experience, third and fourth year students are paired together, which creates an easier transition for students from pre-clinical care and establishes continuity of care for patients.
Each year's class of D3s benefits from the expertise and mentorship handed down from the years of students that have entered Touro Dental Health before them, a fact that this year's new class is especially grateful for as the D4 students, who have been back practicing dentistry at Touro Dental Health since late June, are able to skillfully guide the D3s though their first patient care experiences while sharing their expert understanding of the safety protocols that have been set in place due to COVID-19.
"The D3s have adapted to their new environment in a heroic way. They walked into a clinic whose infection control policies were in flux. They adapted well to the needed upgrades, and thus are keeping their patients and themselves, as safe as possible," said Edward F. Farkas, M.A., D.D.S., Vice Dean at TCDM. "Working together, our faculty, staff, and administration have gone above and beyond to support them, and our students have come through, making sure quality dental care is delivered to patients on a daily basis."
This year, students working at Touro Dental Health will also have the unique opportunity to experience teledentistry as Touro Dental Health has implemented a new patient intake process including a secure, HIPPA compliant registration system and virtual consultation with the patient prior to their first visit. This new process aims to effectively expedite onboarding and limit person to person contact, while giving students the opportunity to develop rapport with their patients before they meet in person.
"One thing that is so great about Touro is their emphasis on using the newest technology," Blake shared. "Exposing us to teledentistry will be very advantageous for when we practice on our own."
Rhonda L. Kaufman, D.D.S., Director of Clinical Education, who is spearheading the teledentistry intake process, shares that both patients and students alike appreciate the benefits of this innovative tool.
"After the teledentistry appointment, students have the ability to do research ahead of time and be well versed for when they see the patient in person," said Dr. Kaufman. "Teledentistry has proven itself invaluable, especially now during COVID-19, as it allows us to get a picture of what is going on and plan a course of action ahead of time. There is a phrase in medicine and dentistry, 'to be forewarned is to be forearmed.'"
As they continue to acclimatize to working in unfamiliar conditions, Blake shares that the reason as to why the D3s have adapted so well is because they have always been taught that clinical care is about being flexible and learning new things–a highly valued philosophy at TCDM as the college has been constantly innovating and adapting over the past four years as one of the newest dental schools in the nation. "While the pandemic poses challenges and changes in procedure, everyone has adapted really well," said Blake. "You put on all this PPE and you wonder if you're going to be able to be as good as you were in preclinic, but our professors during first and second years have properly equipped us to be able to be flexible."