Touro College of Dental Medicine Hosts 4th Annual Kids a Smile! Program Virtually
Free Dental Care and Online Educational Activities Reach Hundreds of Children, Essay Contest Winner Announced
March 19, 2021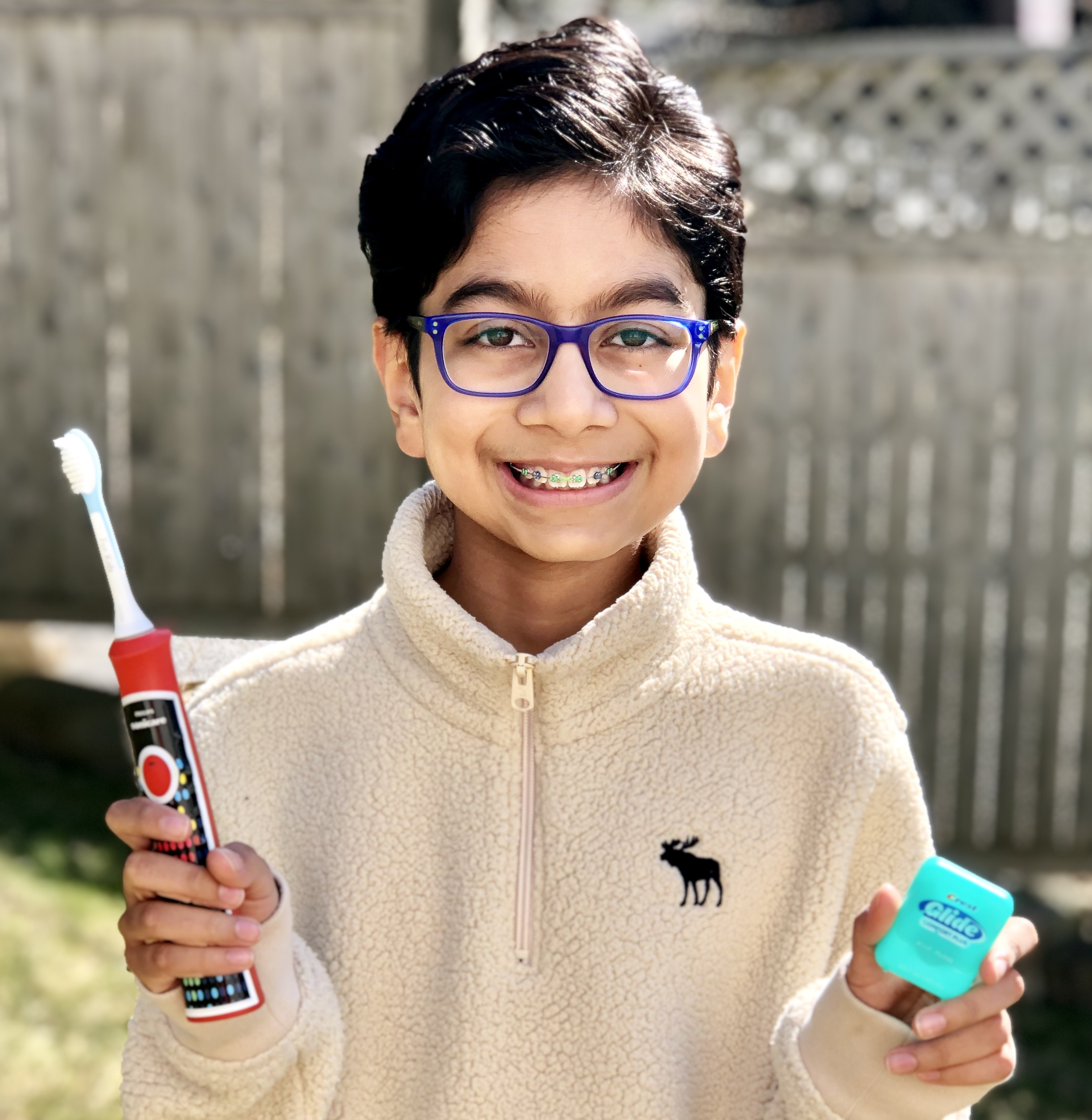 10-year-old Zaydan Malik of Tarrytown, NY was the 1st place winner of TCDM's Discover Dentistry Essay Contest.
With the hecticness that ensued in making the move from Brooklyn to Westchester right before the start of the pandemic, Samoina Malloy and her family had delayed their dental care and finally found a moment at the beginning of 2021 to play catch-up. With two teenagers and two toddlers, she was happy to find out about TCDM's Give Kids A Smile! program and take advantage of both free dental care and the convenience of a large dental practice for her family through Touro Dental Health, the 115-chair teaching practice of the Touro College of Dental Medicine (TCDM).
"It's very valuable," shared Samoina, when asked the about the importance of being able to obtain free dental care for her children. "With a larger family, the expenses it would have took on would have been astronomical."
A national initiative of the American Dental Association, TCDM hosts Give Kids A Smile! each February in celebration of National Children's Dental Health Month. Organized by the college's third-and fourth-year students with the support of faculty and Ninth District volunteer community dentists, Give Kids A Smile! aims to improve oral health and access to care for the community's most vulnerable patients by providing children 16 and under with free comprehensive dental services, including screenings, cleanings, x-rays, fluoride, sealants and limited restorations.
While TCDM traditionally celebrates Give Kids A Smile! with an in person event, this year, to ensure the safety of patients and their families during the coronavirus pandemic, the college expanded the scope of its fourth annual celebration, providing complementary services to more than 40 local children throughout the entire month of February at its new state-of-the-art pediatric facility, Touro Dental Health Kids.
"With COVID-19 further limiting access to care for so many deserving pediatric patients, we understood that this year's program would be a critical opportunity for children and their families to get their oral health back on track." said Dean Ronnie Myers, D.D.S. "In being able to provide compassionate and much needed dental care at no expense, Give Kids A Smile! is truly the embodiment of TCDM's commitment to serving the community and to our mission of instilling a passion for service in the next generation of dental professionals."
Being a highly anticipated occasion in the clinical experience of TCDM's D3s and D4s, students on this year's American Student Dental Association (ASDA) Give Kids A Smile! committee were determined to uphold tradition, ensuring that, despite the circumstances, the program retained the spirit of fun that has brought joy to countless children since it was first established at the college in 2018.
Keeping health and safety at the forefront while reaching even more kids than ever before, TCDM invited children from across the tri-state area and beyond to "Discover Dentistry." Hundreds of kids and teens participated in a host of free interactive virtual programs and had the opportunity to win amazing prizes, all while learning about the importance of maintaining oral health.
"TCDM has always been dedicated to ensuring that our pediatric patients and their caregivers not only have access to the care that they need, but also to the educational resources that will allow them to keep up good oral hygiene habits at home," said TCDM's Carla Tornatore, D.D.S., Director of Pediatric Dentistry. "This year, our students truly went the extra mile—connecting with kids and their families in a safe and engaging way with activities and seminars that relayed valuable oral health information."
Children kindergarten through third grade took part in TCDM's video challenge, starring the college's mascot and a few of TCDM's very talented student dentists. In addition to getting the chance to meet D3 and D4 students via a live online class, fourth through seventh graders were invited to share their own dental experiences and opinions about the importance of oral health via an essay contest. The college received some very compelling entries, with first prize going to Zaydan Malik, 10, from Washington Irving Intermediate School for his paper, "Healthy Smile, Healthy Life" (see below).
To engage with teens, TCDM students also offered a Virtual Dental Career Day to expose youth to various career paths in the field of dentistry, which continues to be one of the top ten jobs according to U.S. News & World Report's annual rankings.
"With the constraints of the pandemic, ASDA was up to the challenge of planning virtual activities that would not only be informative but would really engage students," added third-year student dentist and President of TCDM's ASDA Chapter Ibrahim Hashim, who led this year's Give Kids A Smile! committee. "We worked as a team to make the magic of TCDM's previous Give Kids A Smile! events happen, but with a virtual twist."
TCDM looks forward to continuing to host Give Kids A Smile! and partnering again with local school districts and the Ninth District Dental Association to provide exceptional, family-centered dental care to underserved pediatric patients.
First Place Essay:
HEALTHY SMILE, HEALTHY LIFE
Zaydan Malik, age 10, Washington Irving Intermediate School (Tarrytown, NY)
"What's the big deal? It's ONLY my teeth." I am shocked whenever I hear anyone say it isn't a big deal to lose teeth or to have cavities! Most of us know and always hear that we should brush and floss twice a day but many of us don't know why. Taking care of your teeth will keep your body healthy, your mind healthy, and it can change your life! Let's explore the power of a great smile!
Cleaning our teeth will make them look white and keep our breath fresh. This will help you feel confident and when you feel good about yourself, you will smile more. When you smile more, you can literally change your life and your health. One of the first things people notice is a beautiful smile. Something called the "halo effect" can positively effect your relationships, your career, and even the moods of the people around you when you smile. The halo effect basically says that if you have a positive quality (like a great smile), then others believe you have other positive qualities like intelligence, success, happiness, etc. Smiling and laughing makes your brain release happy chemicals which help keep your body and brain healthy. So, take care of your teeth and smile more!
Another reason to keep your teeth healthy is that they help us chew our food. If you lose teeth, it's harder to chew food. If your teeth have cavities, chewing can hurt. And you need to be able to chew because food nourishes your body. Teeth help us talk. We couldn't speak clearly without our teeth. We need to talk to communicate. And teeth also help our faces have their shapes.
If you don't take care of your teeth, you have a higher chance of getting some dangerous diseases in the other parts of your body. Bacteria from cavities or gum disease can get into your blood and cause heart attacks and strokes!!! These bacteria are also linked to diabetes, dementia, babies being born too early, and even cancers!!! Research tells us that how many teeth we have is related to how long we can live! People who have 20 or more teeth by the time they are 70 years old have a higher chance of living longer than people who have less than 20 teeth. You can help prevent cavities and gum disease by taking more time and effort to keep your mouth healthy. After reading all these important and interesting facts, isn't it worth it??? So, what's the big deal? Well, now you should agree that teeth are a VERY BIG DEAL!
I would like to share a personal story from my current experience with braces. I've always been a very smiley social kid. When I lost my two upper front teeth, one of them came in sticking out of my mouth. I couldn't close my lips over it all the way. It started to bother me when I bit into certain foods, I used to feel like it would come out. It was easier to hurt it during sports. And I started to feel self conscious when I smiled and when I saw how it looked in pictures. My mom took me to meet an orthodontist. I got braces one month ago and I'm so excited to tell you that the tooth that stuck straight out of my mouth is already straightened back into my mouth in line with the other front tooth!!! My lips easily close now, I can eat better. Most importantly, I AM SMILING BIG HUGE SMILES AGAIN and I'm ready to say "CHEESE" for photos again !!!!!:)))))