Our Dental Gift List Will Keep You Smiling this Holiday Season
From high-tech electric toothbrushes to cinnamon flavored toothpaste, the TCDM faculty have rounded up a list of unique dental products to add to your holiday gift list
December 21, 2020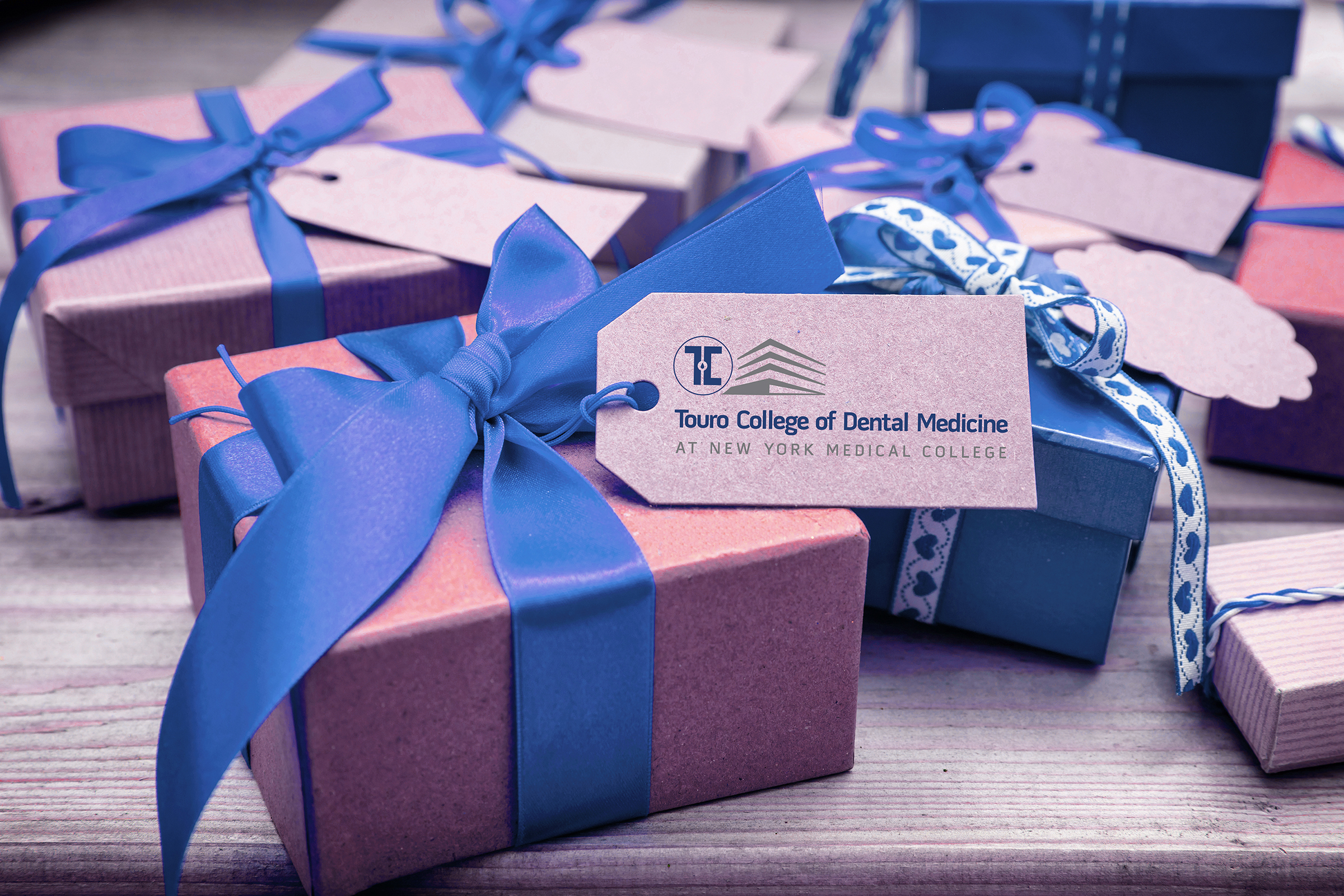 Gift box with TCDM tag
'Tis the season for cookies, candy and other holiday sweets which, while festive and delicious, can directly contribute to tooth decay and painful, unwanted cavities. From fun toothpaste alternatives to high-tech electric toothbrushes, check out these perfect last-minute, dental-themed gift ideas from Touro College of Dental Medicine (TCDM) faculty that will keep you and your family smiling well into the new year.
Colgate HUM Toothbrush
Where gaming and brushing collide, the new electric hum by Colgate toothbrush is a unique gift idea for this holiday season. Taking oral hygiene to a whole new level, this smart brush pairs with a specially designed app that tracks your individual brushing habits in order to help you better maintain your smile. You can earn points every time you brush your teeth which can be traded in for new toothbrush heads, toothbrushes and other oral hygiene products.
"The HUM toothbrush is a great product for anyone who needs a little bit more motivation to brush their teeth," shares Dr. Golda Erdfarb. "It is fun to use and motivates you to brush in order to gain your daily prize points!"
Price: Rechargeable Electric ($69.99) (Pictured) or Battery Powered ($49.99) from Colgate
Marvis Toothpaste
With its standout packaging, Italian imported MARVIS toothpaste is sure to please this holiday. "If you like subtle flavors that aren't too strong and toothpaste with a creamy as opposed to a foamy texture, this may be the perfect toothpaste for you," comments Dr. Rebecca Block. A cult-classic and celebrity favorite, this luxe oral hygiene product comes in a score of unique flavors ranging from classic mint (linked below) to cinnamon and amarelli licorice.
Price: ($10.50) from Amazon
Philips AirFloss Ultra
While Dr. Tina Tran says that nothing is truly as effective as traditional, manual flossing, the Philips AirFloss Ultra is a convenient alternative to the mundane task. "The Airfloss is portable and lightweight and sprays in controlled pulses, as opposed to an uninterrupted stream, of your preferred choice of mouthwash or water; this gives you more leverage over which areas you're aiming to clean," shares Dr. Tran.
Price: (59.95) from Philips
Bite Toothpaste Bits
A new take on a classic, Bite Toothpaste Bits may require a brief adjustment period if you have never tried a version of toothpaste's trendy tablet counterpart before. But don't let that frighten you! With its eco-friendly, refillable glass packaging, fun flavors and vegan ingredients, this "Zero Paste, Zero Waste" product will be a surprising and fun gift for anyone on your shopping list this holiday. "Environmentally sustainable and travel friendly, this unique product is certainly worth a try." shares Dr. Edward Farkas, Vice Dean.
Price: Starting at ($12.99) from Bite
Colgate Optic White Overnight Teeth Whitening Pen
Looking to step into 2021 with a whiter smile? The Colgate Optic White Overnight Teeth Whitening Pen may be an easy and inexpensive solution. The pen's gel formula gently whitens teeth as you sleep, and with the addition of its easy to use applicator, is a convenient way to rapidly brighten your pearly whites. "The mechanism of delivery and strength of the formulation may appeal to those who have attempted teeth whitening with strips and ended up with an unsatisfactory degree of whitening or an uncomfortably sensitive result," comments Dr. Michael Israel. "The treatment did not result in any significant sensitivity, and I would say that I noticed a lightening of approximately one shade after a week of use."
Price: ($25.49) from Target
WHIMZEES Brushzees Grain Free Natural Daily Dental Dog Treats
When it comes to oral health care for the whole family, make sure you don't forget your canine pal! Adorably shaped to resemble toothbrushes, WHIMZEES Brushzees Grain Free Natural Daily Dental Dog Treats are grain and gluten free and made with all-natural ingredients sure to make any dog owner smile, says Dr. Isabel Garcia. "The size and hardness of the treat is good which allows my dog to take her time chewing it," shares Dr. Garcia. "The plaque and tartar fighting benefits are great, plus she enjoys them very much!"
Price: ($14.99) from Amazon
Each of the dental products listed above were reviewed by TCDM faculty. TCDM faculty did not receive compensation for their reviews and do not endorse these products over other competitor products. This article is meant to provide insight into the new and unique products available to help people maintain good oral health at home.